Book here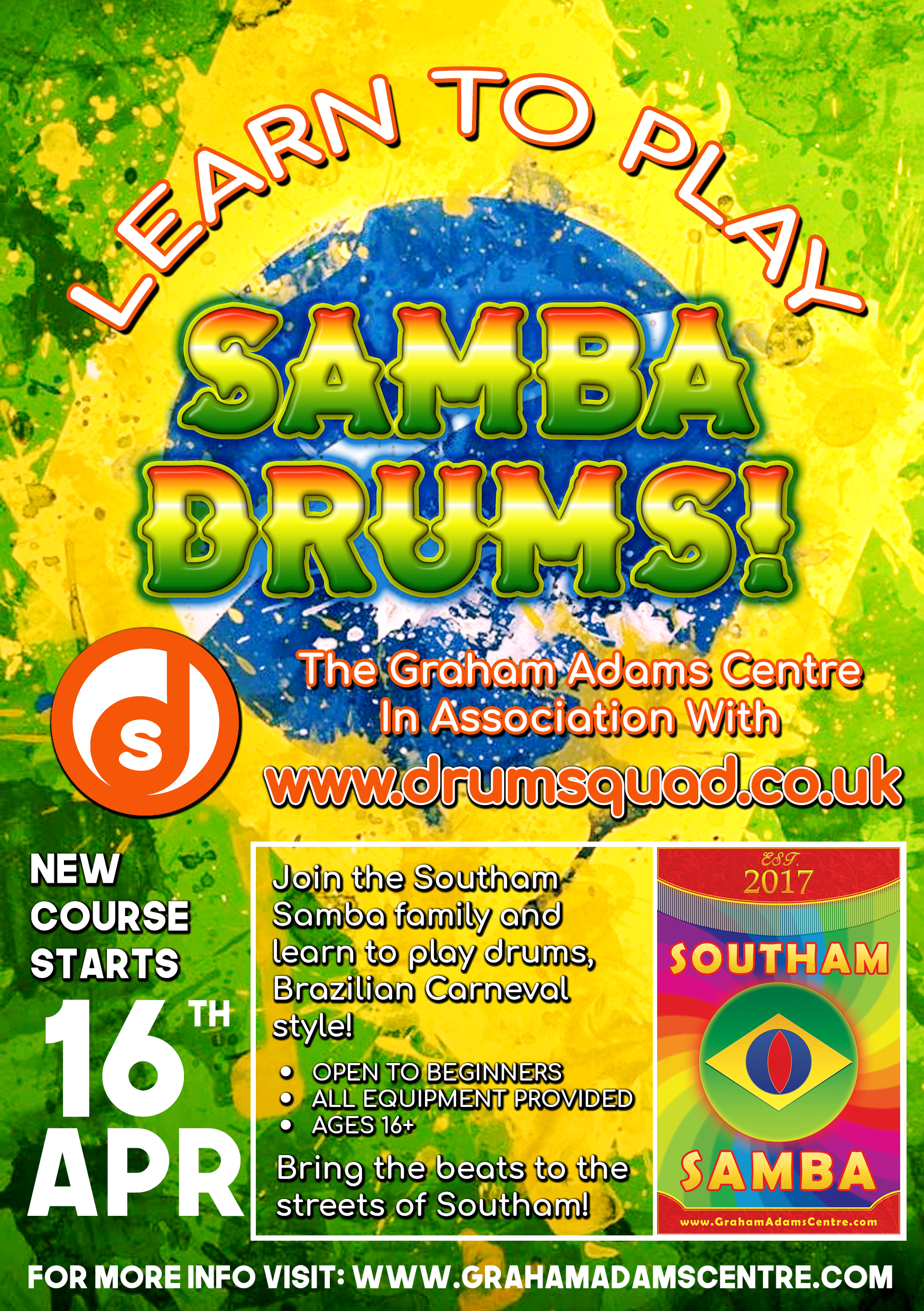 WHAT IS SAMBA?
Samba is a style of music from Brazil, with it's roots buried deep in the rhythms and religions of Africa. The most well-known example is the high energy Rio De Janeiro carnival style that attracts millions of visitors each year with it's explosion of music, dance, costume and competition! But there are many other styles, from the marching armies of the Carnival, to the voodoo-like trances of the Candomble religion, down to fireside singing circles with very light percussion. It is the folk music of Brazil, with a thousand stories to tell, about the history of the country, the passion of the people, the power of the gods and the connection between all of these things…MUSIC!
WHAT IS SAMBA DRUMMING?
As mentioned above, Samba is a whole genre of music and dance, featuring voices, guitars and a range of other native instruments. But it's the huge percussion sections that make this style of music stand out from other Latin-American sounds. So much so, that the percussion sections are often seen performing by themselves, with the powerful, infectious grooves being more than enough to get people dancing in the streets! There are amateur community groups all over the world, all with close ties to each other, sharing ideas, experimenting with styles, and coming together for festivals and carnivals of their own. Like all drumming, the basics are easy and accessible to all…but to master it takes a lifetime!
WHAT INSTRUMENTS DO YOU PLAY?
Different styles of Samba have different configurations of instruments, but in the average community group outside Brazil, you will usually see:
Surdo – Big tuned bass drum
Caixa – Snare drum
Tamborim – Small, sharp sounding frame drum
Timbau – African style hand drum
Campana – Cowbell
Agogo – Double Bell
Chocalho – Heavy shaker
DO I HAVE TO HAVE A NATURAL SENSE OF RHYTHM?
One of the main things that puts people off trying the drums is this idea that some people are born with a sense of rhythm, and some are not. But it's not true! It's a little bit like strength…everyone has SOME, and everyone can improve on what they have with hard work and good instruction. If you can clap along to your favourite song, then you have all the 'natural ability' you need…so no excuses!
BOOK HERE
With thanks to Southam Town Council for some of the start-up funding required to purchase the instruments needed for the band and to Napton Music Festival Trust for support for reduced fee spaces.